---
On the night of 6 to 7 March 2013 puppies were born.
Parents are Kiara Rubínové srdce and X-Factor Dei Matiblu
Wings Of Destiny - "Koko"

Bitch
Time of birth - 21:31
Weight - 410g
Color - black & white
CEA DNA - NORMAL by parentage
CL DNA - NORMAL by parentage

Photos: 2013.03.09 2013.03.23

Wonderful Life

Dog
Time of birth - 21:49
Weight - 410g
Color - chocolate & white
CEA DNA - NORMAL by parentage
CL DNA - NORMAL by parentage


Photos: 2013.03.09 2013.03.23

Wonderful Dream - "Mango"

Dog
Godzina urodzenia - 22:48
Weight - 412g
Color - black & white
CEA DNA - NORMAL by parentage
CL DNA - NORMAL by parentage

Zdjęcia: 2013.03.09 2013.03.23

Will You Be There - "Jasper"

Dog
Time of birth - 23:54
Weight - 462g
Color - black & white
CEA DNA - NORMAL by parentage
CL DNA - NORMAL by parentage

Photos: 2013.03.09 2013.03.23

Wonderwall - "Zaksa"

Bitch
Time of birth - 00:55
Weight - 394g
Color - black & white
CEA DNA - NORMAL by parentage
CL DNA - NORMAL by parentage

Photos: 2013.03.09 2013.03.23

What Is Love

Bitch
Time of birth - 01:50
Weight - 468g
Color - black & white
CEA DNA - NORMAL by parentage
CL DNA - NORMAL by parentage

Photos: 2013.03.09 2013.03.23

Windmill Jordan - "Jordan"

Bitch
Time of birth - 03:55
Weight - 440g
Color - chocoloate & white
CEA DNA - NORMAL by parentage
CL DNA - NORMAL by parentage

Photos: 2013.03.09 2013.03.23

Wind Of Change

Bitch
Time of birth - 05:55
Weight - 396g
Color - black & white
CEA DNA - NORMAL by parentage
CL DNA - NORMAL by parentage

Photos: 2013.03.09 2013.03.23
So grow:

| | | | | | | | |
| --- | --- | --- | --- | --- | --- | --- | --- |
| | After birth | 1 week | 2 week | 3 week | 4 week | 5 week | 6 week |
| Wings Of Destiny | 410 | 816 | 1220 | 1848 | 2516 | | |
| Wonderful Life | 410 | 742 | 1120 | 1704 | 2700 | | |
| Wonderful Dream | 412 | 796 | 1228 | 1950 | 2760 | | |
| Will You Be There | 462 | 858 | 1236 | 1758 | 2510 | | |
| Wonderwall | 394 | 764 | 1150 | 1716 | 2370 | | |
| What Is Love | 468 | 858 | 1272 | 1790 | 2436 | | |
| Windmill Jordan | 440 | 860 | 1330 | 1870 | 2520 | | |
| Wind Of Change | 396 | 752 | 1120 | 1690 | 2260 | | |
---
Finding the proper male took me quite a long time because I was looking for a fully sports dog with ancestors of high sports achievements present in his pedigree. In case of Kiara when I want to mate her, I always try to find sports genes in several generations back. This time it was not different and on New Year's Eve I went to Italy for mating.
---
Let me introduce the parents of litter "W"
X-Factor Dei Matiblu "Jet"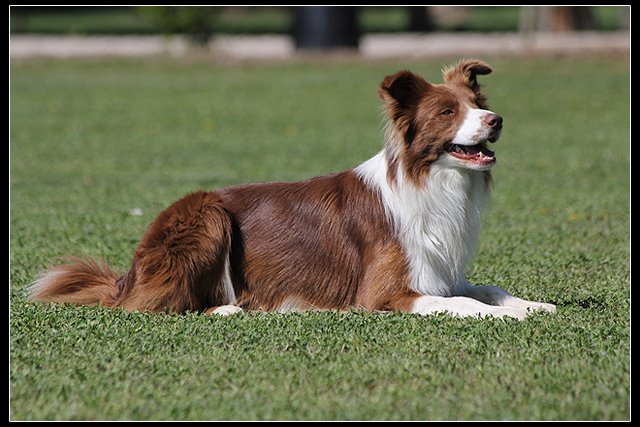 Date of birth: 28.11.2009
Colour: chocolate & white
HD A
ED 0/0
DNA CEA Normal by parentage
DNA CL Normal by parentage
Agility A3
Jr.Ch.PL Ch.PL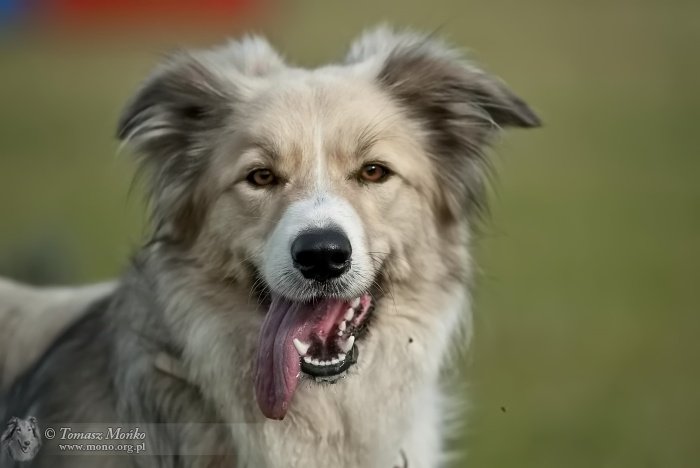 Date of birth: 11.02.2008
Colour: sable & white
HD – A
ED 0/0
CEA DNA Normal by parentage
CL DNA Normal (tested)
TNS DNA Normal (tested)
MDR +/+
PRA/CAT/cPRA/RPED/RD/CEA/Glaucoma - free
Herding instinct test - HIT
A little train with Kiara dogfrisbee and sometimes herding sheep.
---
Jet runs in A3. His parents are: the famous Champion Agility Bulldurham which is at present one of the best dogs running agility, and the beautiful and splendidly built female of clean Australian origin- chocolate Borderbay Other Side Of The Sun.
Jet's grandfather is Champion Agility T-Blue.
Jet is perfect in jumping techniques and is very fast. He works for both snacks and a toy. He has a strong character, but at the same time he loves hugging. He lives with a 9-year old boy and a wonderful 16-year old border Blitz. He is very friendly for both of them. He does not herd cars, does not go crazy and is able to rest easily at home on days without training.
On the track he is not interested in other dogs but lies quietly without barking, or runs around while waiting for his turn.
He is careful with new people- he comes up, lets to stroke him but he is not pressing. He nicely plays with cats which live in a special house built near the agility track.
Both Jet and Kiara have an innate great retrieval.
When Jet was a young dog he began working with sheep and ducks, and he will return to this activity on his agility retirement.
Personally I am delighted with Jet's character and work. The puppies of last Jet's litter did not have problems with socializing. Now they nicely work and step by step enter into the world of cynologian sports.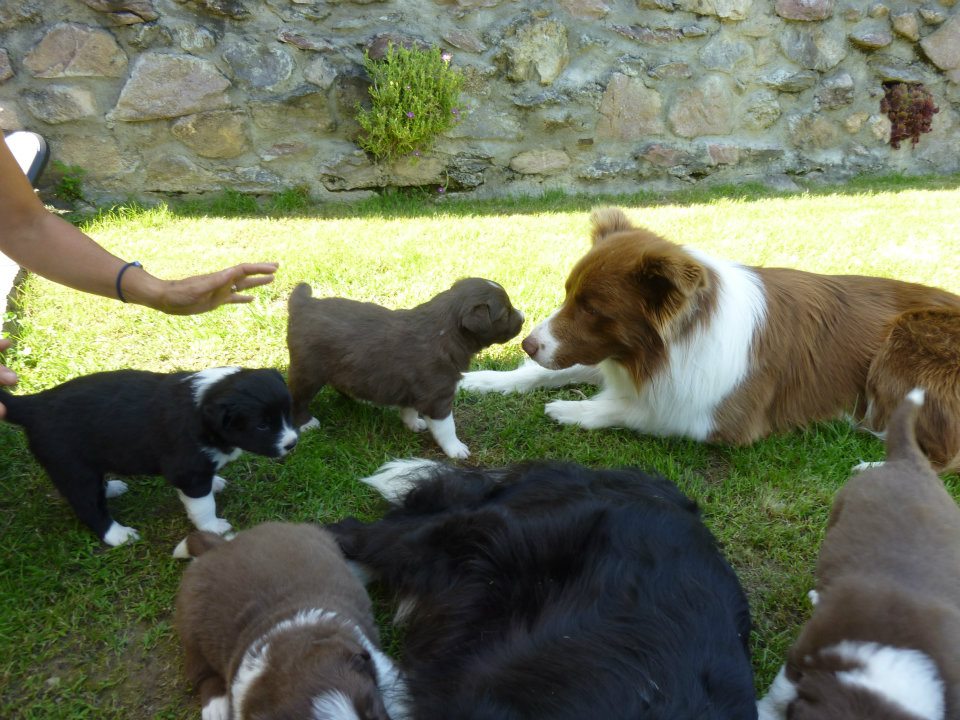 Jet with their children
Kiara is a magnificent female of great working type and beautiful, strong build. She has got delicate female head and excellent movement. Moreover, she has incredibly good attitude towards working with people.
Kiara has innate, perfect retrieval and jumping is her second nature.
As far as contacts with strangers are concerned, at first she is mistrustful but after a while she starts licking the stranger and testing if they are good as retrieval launcher. She is able to work with everybody. She is never tired of playing and working- she could do it all day long. At the same time she easily calms down and behaves in such a way that you do not feel her present at home.
Kiara is not interested in other dogs, does not provoke neither dogs nor cats, does not herd cars, bikes, etc. We walk without a leash even near (low traffic) street.
Kiara's father Arien Aglar Wonderfull Dream works in Czech life-saving service, but he also herds sheep and runs agility. Some of his children also run high level agility.
Kiara's line proves to be very good at sport. The litter sister of Kiara's mother Chase Rubinove Srdce won the European Championship in Dogsfriesbee Open Freestyle in 2010.
Kiara's grandmother and grandfather on the father's side are Agility Champions. In 2003 the grandmother won the European Championship and in 2007 IMCA competition.
Kiara trains a little Frisbee and sometimes herding.
This litter will be Kiara's third one. The female from the first litter has stayed with us- she is of incredibly good built, with excellent drives and amazingly fond of jumping.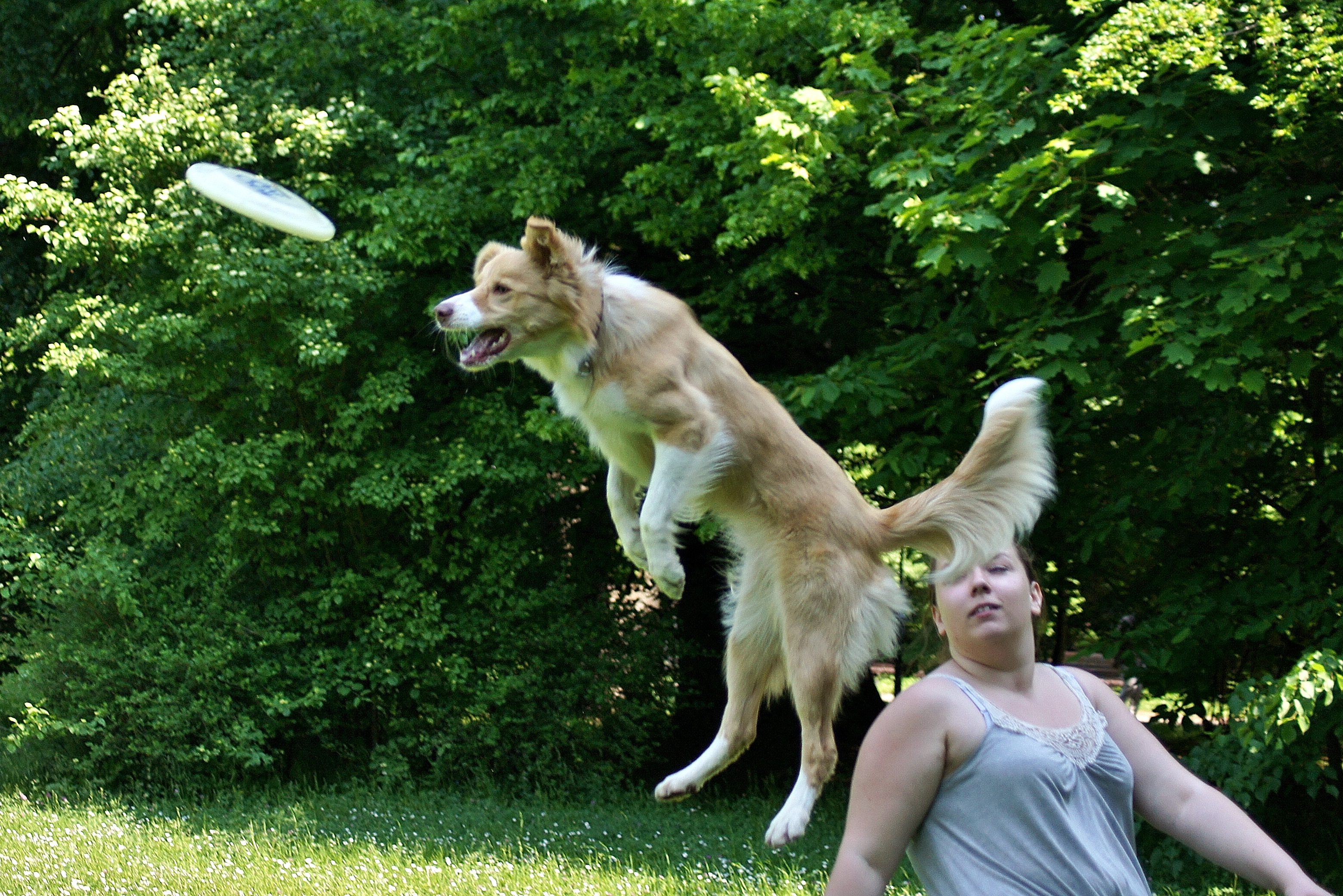 Kiara's daugther "Baby"
Kiara's daughter "Baby"
All Kiara's puppies have great retrieving abilities and are fond of jumping.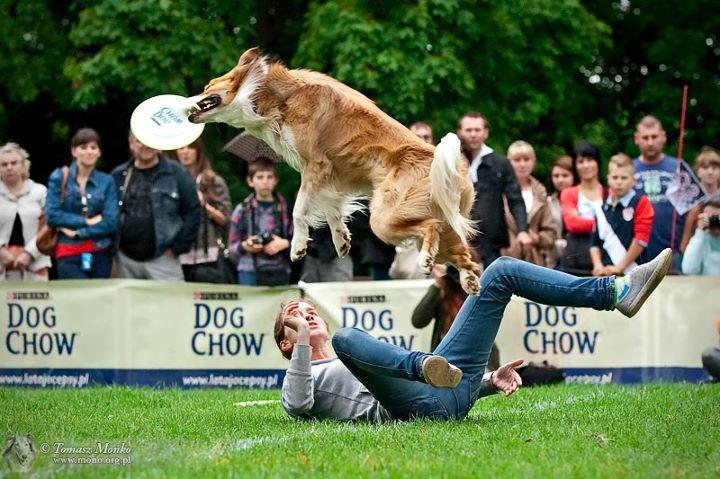 Kiara's son "Luca"
Kiara does very well in exhibition rings. She has won both youth and adult championship and during all exhibitions she usually gets excellent marks and stands on the podium.
After this mating we expect puppies with very good predispositions for doing cynologian sports. We hope that they will take after their parents strong characters, good natural jumping techniques, irresistible will for working with people, well built bodies and great movement.
---
We invite you to watch Jet's and Kiara's photos and Jet's films taken during training and competitions.